Hello Beans
If you have been following my blog for a while now you will know I'm a hair colouring addict. I get bored with my hair pretty often, this year alone this will be the 12th time I have switched between colours making an average of when hair dye job a month. For me dying my hair is like buying a new bag or dress, it gives me a confidence boost and makes me feel more like myself.
I buy all of my hair dye from www.beeunique.co.uk  (I've been using this site for years now and would highly recommend, quick delivery, good price and never had any issues). All most always, I use directions, usually 2 tubs costing £4.50 each to cover my head which is £9 a month which is still cheaper than most dresses and handbags 🙂
If you want more info on my different hair over the years then look at my timeline here.
Disclaimer – I'm not a professional and don't claim to be. I only have experience. I have been dying my hair since I was a teenager and using bright colours for 5 years now. In that time I've never had a disaster. 
So how did I go from this:
To this: (Ignore the roots, I'm growing them out)
It's ridiculously simple, follow the colour wheel.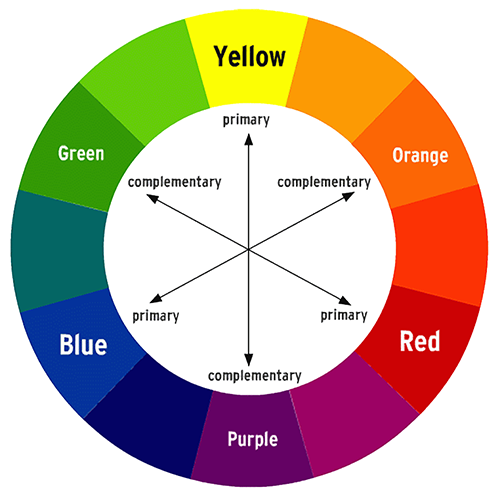 The colour wheel is the easiest way to switch between colours without using bleach. If you want to go from green to orange, go from green to bright green, then to yellow and then to orange. The trick is to use complementary colours.
For me, I wanted to go from blue to purple so the switch was easy. However, I didn't have any purple hair dye but I did have red and pink. Now, if you use a bright red over blue it will make your hair a muddy brown.
The ratios I used was: 
Directions – Poppy Red (1 tub)
Crazy Color – Pinkissimo (1/3 – 1/2 of the bottle)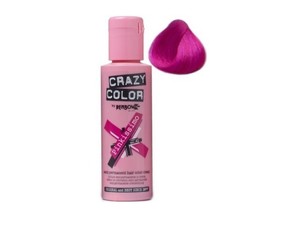 Conditioner – 1/3 of the mixture.
Again you can buy all the hair dye at beeunique. I've also heard good things about Blue Banana.
The 'Poppy Red' colour I used has pink within the mixture which meant that I was putting pink over my hair with red tints more than anything. The pink in both colours creates the purple when it mixes with the blue on top of your head. The darkness of poppy red turns it to a darker shade. I also mixed in quite a bit of conditioner with mine which created a more vibrant metallic shade.
As you can see in the photo I also added layers to my hair as it was a thick mess beforehand. If you would like a tutorial on how I did this then please let me know. I have been cutting and dying my own hair for the past 5 years now. 
Don't worry too much about patches either. As you can see I have brighter sections on some parts of my hair.
To be honest I like as it makes it more multi-tonal but if you don't like it then next time you dye your hair with the same colours or with a purple shade it wil blend it all together.
Eventually, I would like to go back to red hair for a bit. As I'm currently purple with a blue base the easiest way for me to reach Red is to go to pink, then a brighter shade of pink before going to red. As I said though I'm currently trying to grow out my roots which is easier said than done as they look super gross!
Your alternative options 
If this option isn't really something you would like to do then the best thing is to fade your hair if you would prefer to avoid using bleach.
To do this use mix equal parts, baking soda, anti-dandruff shampoo and vitamin C tablets. Place it on your hair in a warm environment for several hours, then rinse with hot water and use plenty of conditioner.
Do this until you reach the desired shade _- WARNING BLUE IS VERY STUBBORN
Do you have any hair dye disaster or even an accidental success? I would love to see your pictures and hear your stories! 
I'm also thinking about doing an Everything hair Q&A at some point in the future. Let me know what questions you want answering. 
Thanks Beans